Installation of security systems is a convenient way to keep out criminals and send early warnings to relevant authorities in case of an incident. You need to do proper research to get gadgets which are easy to use and will offer optimal protection. A careful search will also save you from making the wrong choice, which would result in great inconveniences. Here are some essential aspects to consider when choosing a home security system in Rhode Island.
Homeowners should decide whether to buy hardwired or wireless equipment. A wireless system is easy to install as it uses small transmitters that send signals to the central unit when activated. However, you must ensure it works efficiently, even in remote areas. Hardwired options involve installing wires and connecting them to your power supply, and are thus quite complex to fit. For wired structures, you must seek professional help for proper installation.
There are monitored systems while others work without close watching. Monitored options link to a central station, and you pay a monthly fee for the monitoring services. Such systems are reliable as they use the latest technologies which ensure authorities are quickly dispatched should anything unusual happen in your premise. Unmanned systems, on the other hand, uses mobile alerts and leaves you to contact authorities when you get the alerts.
The costs borne in the installation of security systems should match your financial means while offering the highest protection. Factors determining the total cost include the price of individual equipment, monitoring fees, and installation charges. If you want a complex setup, you must be willing to dig deeper into your account. A simple, unique device is a convenient choice if your budget is relatively tight.
Clients should evaluate the number of sensors that come with a given system to determine its suitability. An excellent setup should have as many devices as the number of doors, windows, and other openings in the premise. You want a system that covers all areas of your property excellently. Steer clear of traditional options that have small sensors as their response to emergencies is likely to be unreliable.
It is paramount to assess the ease of using and performing upgrades for the selected systems. Look for a user friendly device that allows you to add codes effortlessly, and your family members can quickly learn to operate it. Ensure the system has expansion modules, hence you can increase its capacity to cover new zones without much effort.
A close evaluation of the system package is essential to decide whether it is a valuable option. Look for excellently designed systems that can withstand smashing from a burglar. Excellent systems have visible restraints such as doorbell cameras which can help to scare away possible criminals. Also, some systems have smart lighting that turns on during night hours hence provides round the clock monitoring.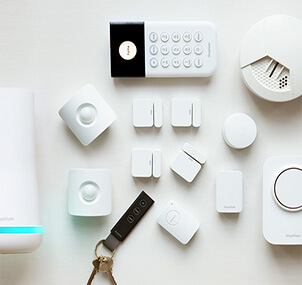 Homeowners must assess the accessibility of the control panels of selected systems. An excellent security device will have keypads on easily accessible areas like the door and bedrooms. It is advisable to choose a setting that provides an ideal balance between safety and convenience.